Key Takeaways of FOMC Jan Minutes Meeting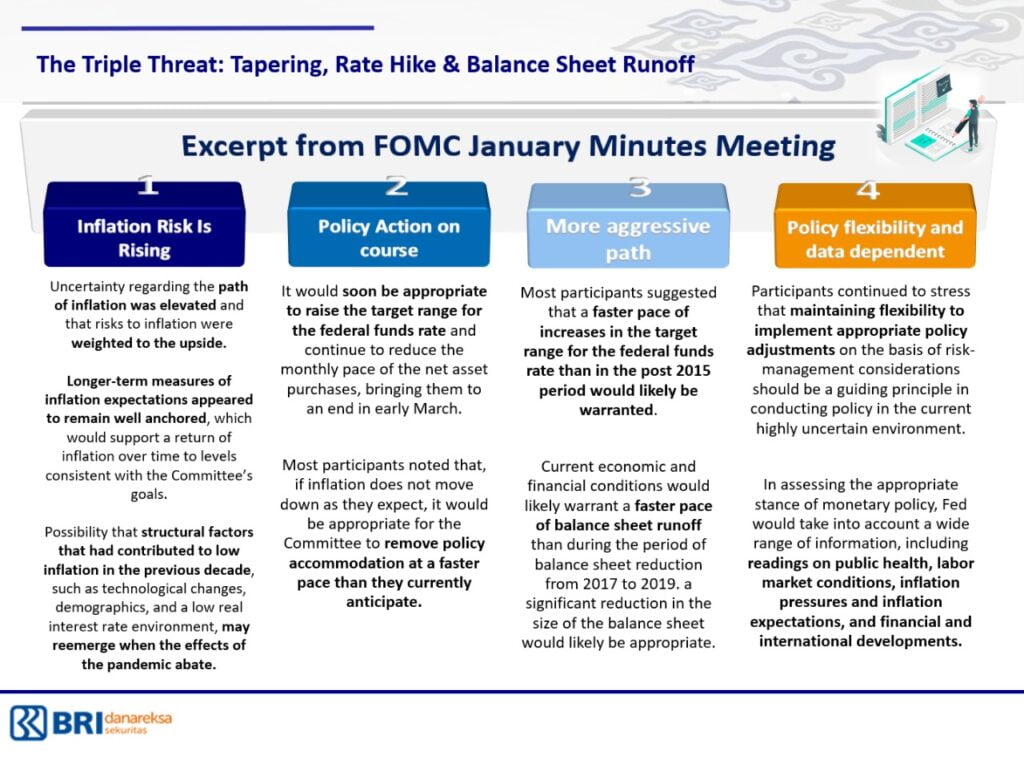 (Helmy Kristanto – BRIDS)
1. Inflation risk continue to rise on the upside, and coupled with strong labour market, an increase in rate would soon be appropriate, with expectation of rate hike in the next FOMC meeting (15-16 March). Moreover, if the inflation remain elevated, Fed will remove policy accommodation at a faster pace.
2. Rate hike will be in faster pace than previous cycle in the post 2015 period, similarly, balance sheet runoff would also be at faster pace than 2017-19 period. Fed also observed that a significant reduction in the size of the balance sheet would likely be appropriate.
3. Fed continued to stress that maintaining flexibility to implement appropriate policy adjustments and more importantly, would take into account a wide range of information, including readings on public health, labor market conditions, inflation pressures and inflation expectations, and financial and international developments.
Market has been pricing in for larger rate hike of 50 bps in March, while minutes meeting suggests that there is no exact particular path of hike trend. In the past, 50 bps Fed Fund Rate increase usually happened in the middle to end of a tightening cycle. Post the release of FOMC Jan Minutes Meeting, the probability of 50 bps hike in March meeting is lower as shown in CME Fedwatch, with the latest reading down 44% vs 59% on 15 Feb & 89% on 10 Feb.
We continue to expect domestic macro strengths (strong forex reserve, supportive trade balance, manageable CAD outlook, higher economic growth) would continue to serve as stability foundation, paving the way for stronger investment inflow this year. Health Ministry recent comment that certain areas in Java & Bali have passed the peak of Omicron is supportive for market sentiment. Maintain our index target of 7,330 is based on 12% overall earnings growth this year.